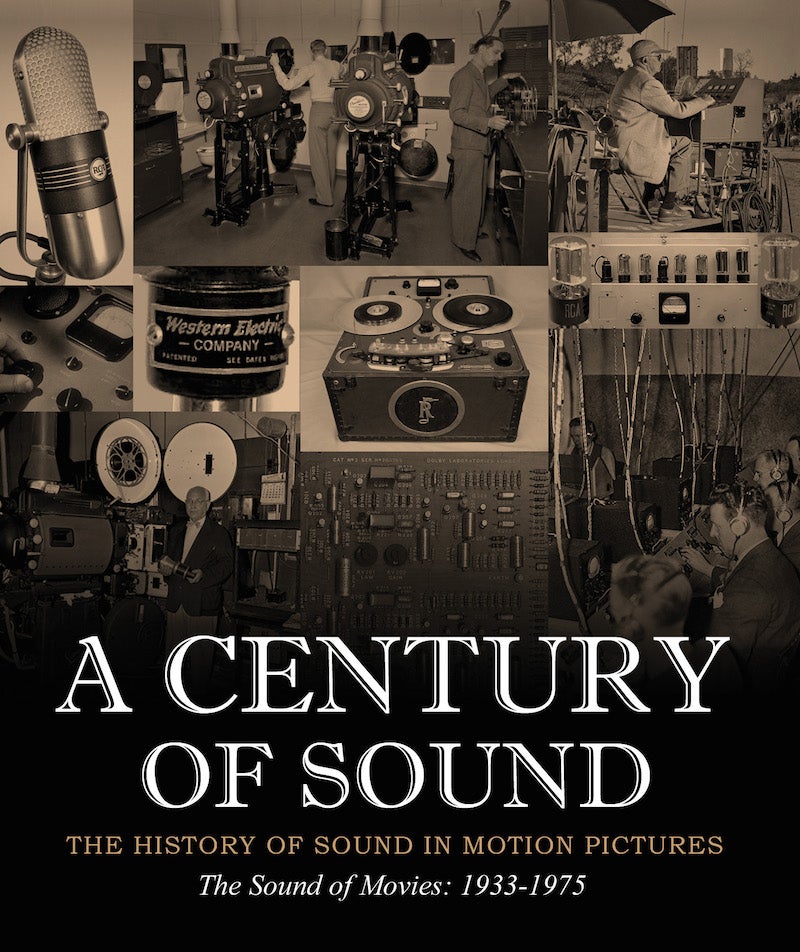 About the Project
The History of Sound in Motion Pictures: The Sound of Movies 1933-1975 is the second installment of former UCLA Preservation Officer Robert Gitt's series, A Century of Sound.  This 4-disc Blu-ray set constitutes a virtual encyclopedia on sound in motion pictures, illustrated with more than 90 excerpts from feature films and shorts, all of which have been transferred in high definition from the best available 35mm nitrate and safety film elements or high definition video and audio masters.  In addition, more than 1,200 photographs, drawings, diagrams and articles are used to help tell the story of sound in motion pictures.  Finally, Gitt provides a brief on camera introduction and a voice over narration for each chapter.
Written, Produced and Directed by: Robert Gitt.  Total Runtime: 737 min.  Year: 2015.  Color: Color/B&W.  Aspect Ratio: 16 x 9; 1080p High Definition.  Audio: Dolby Digital.  Language: English.  Region Code:  NTSC Region Free.  Format: Blu-ray.


How to order a Blu-ray set
A Century of Sound was created as an educational tool, intended for classroom and individual study use only.  This Blu-ray set is available for free to archives, libraries, educational institutions and other non-profit organizations — and to qualified educators, researchers and scholars — with a shipping fee applying.
To request a copy, please download and complete this order form (PDF).  Then, email the form to centuryofsound@cinema.ucla.edu.  Please indicate if a DVD of the first installment, The Beginning, 1876-1932, is also desired.


Special Thanks
Funding for A Century of Sound generously provided by: The Louis B. Mayer Foundation, The Rick Chace Foundation, Tuscan Corporation, and Underground Vaults and Storage. 
The producers gratefully acknowledge the donation of services from: Audio Mechanics, California Digital Post, Deluxe Media - Chace Audio, DJ Audio, Endpoint Audio Labs, History for Hire, Phase Three Productions, Point.360 Digital Film Labs, Post Interactive, Simon Daniel sound, and Sony Colorworks.

Table of Contents



Chapter One  Pre-1933

Decline of Early Disk Optical Sound Technologies
Emergence of Western Electric and RCA Optical Sound Systems



Chapter Two  1933

Problems Affecting Motion Picture Sound
Early Condenser, Moving Coil & Ribbon Microphones
RCA "High Fidelity" and Western Electric "Wide Range" Sound Systems



Chapter Three  1928 - 1935

Variable-Density and Variable-Area Optical Track Formats
Noise Reduction Techniques



Chapter Four  1935-1940

RCA Photophone: Problems and Progress
Western Electric Competes with RCA For Studio and Theater Business
RCA Variable-Area "Blasting"



Chapter Five  1930s-1940s

Optical Track Distortion Problems
Effects of Laboratory Printing and Developing on Sound Quality



Chapter Six  1935-1941

The Shearer Horn Two-way Loudspeaker System
Theater Projection Equipment   
Recording and Playback Standards Adopted
Sound Test Films



Chapter Seven  1935-1950s

Efforts to Expand Dynamic Range
Squeeze Tracks - Matted Tracks
Intercutting VD and VA Tracks
Control Tone Systems



Chapter Eight  1934-1954

Push-Pull Optical Recording and Reproduction



Chapter Nine  1930-1942

Improvements in Moving Coil and Ribbon Microphones
On-set Microphone Mixing
Re-recording Mixing



Chapter Ten  1936-1941

Optical Recording Film Stocks
RCA Variable-Intensity Recording
Comparison of Variable-Area and Variable-Density



Chapter Eleven  1945-1951

Talking Pictures 20th Anniversary
Location Filming of Semi-documentary Features
RCA and Western Electric Introduce New Variable-Area Formats
Altec-Lansing "Voice of the Theatre"

   

Chapter Twelve  1878-1948

Early Magnetic Recording Equipment
Magnetophon: The First Modern Magnetic Recorder
Magnetic Recording Comes to America



Chapter Thirteen  1946-1975

Magnetic Sound Adopted for Motion Picture
Comparison of Magnetic and Optical Sound
Synchronous Recording on 35mm Magnetic Film
Synchronous Recording on 1/4" Tape



Chapter Fourteen  1881-1941

Early Stereophonic Sound Developments
Paris Opera Binaural Demonstrations and the Théatrophone
Bell Laboratories' Pioneering Stereo Recordings and Transmissions
RCA Develops Multi-Channel Optical Sound for Fantasia



Chapter Fifteen  1948-1955

Television Impacts Movie Attendance
Cinerama Introduces Multi-Channel Magnetic Sound
WarnerPhonic Sound and 3-D Exhibition



Chaper Sixteen  1953-1960s

20th Century-Fox Develops CinemaScope
The Robe Premieres with Four-Channel Stereophonic Sound
Recording Methods for Stereo Sound Production
CinemaScope's Impact on Exhibition



Chapter Seventeen  1954-1958

Perspecta: Directional Sound from Mono Optical Tracks
Westrex PhotoStereo 2-track Format



Chapter Eighteen  1890s-1975

Wide Gauge Film Formats
Todd-AO/70mm: An Alternative to Cinerama
Six-Track Stereophonic Sound Standardized for 70mm



Chapter Nineteen  1950-1975

Monophonic Optical Tracks Continue as Industry Standard
Solid State Electronics Transform Production and Exhibition
Magnetic Stereophonic Sound Declines in Exhibition



Chapter Twenty  1965-1975

Dolby A-Type Noise Reduction Developed
Dolby Proposes Noise Reduction for Optical Tracks
Eastman Kodak Demonstrates 2-track Optical Sound
Dolby Stereo Introduced for Motion Pictures
Epilogue & Credits