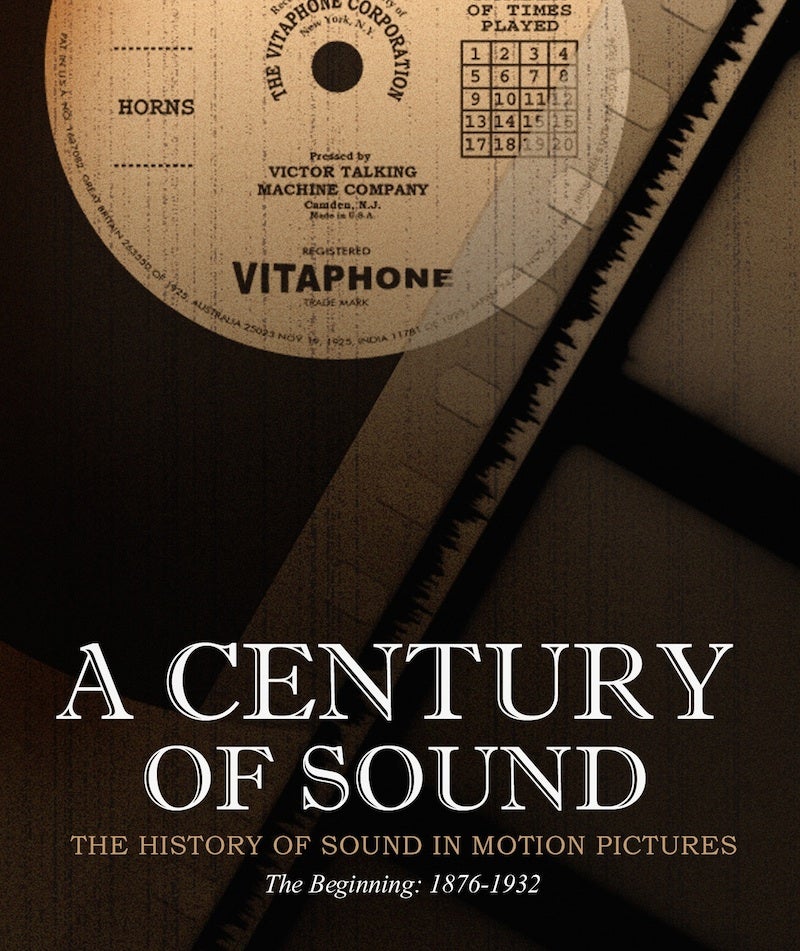 About the Project
The History of Sound in Motion Pictures: The Beginning: 1876-1932 offers an in-depth look at early sound recording technologies, based on an illustrated lecture presented by former UCLA Preservation Officer Robert Gitt.  Beginning in the 19th century with the invention of the telephone and the phonograph, the film chronicles the development of motion picture sound recording, production and exhibition technology through 1932.  It features many rarely-seen film excerpts showing the progress of recording methods as varied as Vitaphone and Movietone sound of film.  The documentary is supplemented by a timeline of events, an oral history by pioneer sound engineer George Groves, and other special features.
Written, Produced and Directed by: Robert Gitt.  Total Runtime: 183 min.  Year: 2007.  Color: Color/B&W.  Audio: Dolby Digital.  Language: English.  Region Code:  NTSC Region Free.  Format: DVD.


How to order a DVD
A Century of Sound was created as an educational tool, intended for classroom and individual study use only.  This DVD is available for free to archives, libraries, educational institutions and other non-profit organizations — and to qualified educators, researchers and scholars — with a shipping fee applying.
To request a copy, please download and complete this order form (PDF).  Then, email the form to centuryofsound@cinema.ucla.edu.  Please specify whether or not a Blu-ray of the second installment, The History of Sound in Motion Pictures: The Sound of Movies 1933-1975, is desired.


Special Thanks
Funding for A Century of Sound generously provided by: The Academy Foundation of the Academy of Motion Picture Arts and Sciences, Association of Moving Image Archivists, The Rick Chace Foundation, UCLA Film & Television Archive.
The producers gratefully acknowledge the donation of services by:  Academy of Motion Picture Arts and Sciences Academy Film Archive, Chace Audio, Crest Digital, Film Technology Company, Inc., FotoKem, Phase Three Productions.

Table of Contents


Introduction

A Century of Sound information
Some Characteristics of Sound



Acoustical Disc Recording

Edison Invents the Phonograph
Edison and Dickson Invent the Kinetoscope
Phono Cinema / Gaumont Chronophone
Oskar Messter / Humanovo / Selig
Edison Kinetophone
Kellum Talking Pictures



Electrical Disc Recording

Bell Laboratories / Western Electric
Vitaphone Sound on Disc
Kraft / Levinson / Warner
Vitaphone Premieres in New York
Vitaphone Moves to Hollywood
The Jazz Singer
Lights of New York
Vitaphone Shorts and Feature Production



   

Early Optical Sound-On-Film Development

Lauste / Tykociner / Europeans
DeForest Phonofilm
Case and Sponable
Fox Movietone
Western Electric Variable-Density Recording



Adoption of Optical Sound

Photophone Variable Area Recording
Sound in the Projection Booth
Sound in Production
Lubitsch and Mamoulian
The End of Sound-on-disc
Conclusion and Credits