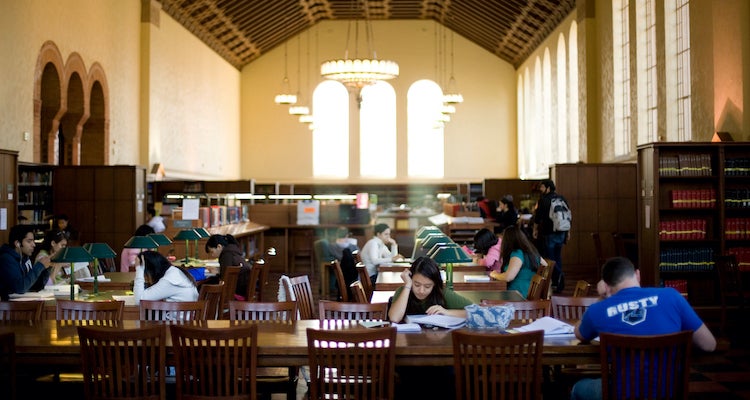 UCLA Powell Library
In 2019, the UCLA Film & Television Archive joined the renowned UCLA Library. Consistently ranked among the top academic libraries in the country, the UCLA Library drives the world-class research, groundbreaking discoveries, and innovation for which UCLA is known. Under the direction of Norman and Armena Powell University Librarian Ginny Steel, the UCLA Library system serves students, faculty, and researchers of all disciplines.
The UCLA Library offers a wealth of paper materials relevant to the study of moving images that complement the Film & Television Archive's collections. Where to start:


More than 300,000 volumes in the fields of architecture, architectural history, art, art history, design, fashion and costume, film, television, photography, theater, urban design, and allied disciplines.
Primary research materials such as film and television scripts, still photographs, personal papers, posters, studio records and miscellaneous material on film, radio and television. Includes paper collections related to Paramount Pictures, RKO, Hallmark Hall of Fame, Ralph Edwards Productions and many others.
Musical scores from films and television programs donated by composers, networks, etc. Scores and other musical documents from Henry Mancini, CBS, General Music Corporation, Richard Rodgers. The Capital Theater Collection includes sheet music used for silent films from 1910-1930.
Center for Oral History Research
The Center has particularly strong oral history collections in the history of social movements, communities of color, the arts, Los Angeles politics and government, and the history of UCLA.