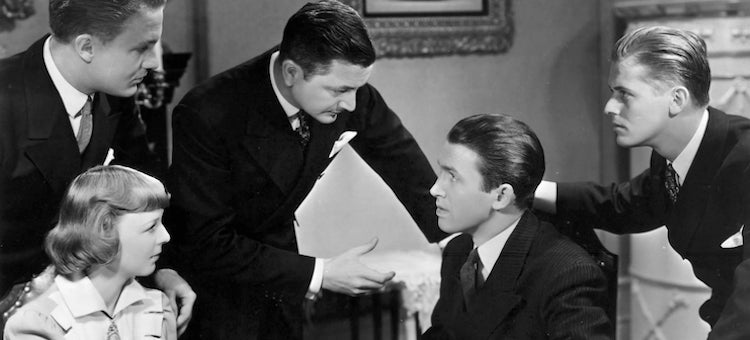 The Mortal Storm  (1940)     
February 15-17, 2019  |  Billy Wilder Theater
Each day of the festival will offer an eclectic survey of the Archive's latest restoration work, including director Frank Borzage's WWII classic The Mortal Storm (1940) with James Stewart and Margaret Sullavan. The festival will showcase rarely seen silent films, golden-age TV treasures, Laurel and Hardy, noir thrillers, animation and more, looking better than ever thanks to our preservation team, digital lab and partners. As in years past, the festival will be a "deep dive into the seldom-explored sea that is American film history, alternating between extreme rarities seen nowhere else and new prints of beloved movie classics" (Kenneth Turan, Los Angeles Times).
Festival Pass: $50
Purchase a pass and enjoy all the festival has to offer.
Online sales have ended. Passes may be purchased in person at the Billy Wilder Theater during the festival.
Admission to the festival is free for current UCLA students with valid ID; tickets must be claimed at least 15 minutes before showtime.
Pass Pick-up
Pass holders may claim their passes at the Billy Wilder Theater box office beginning February 10 at 6:30 p.m. Please check the Archive calendar for our box office hours. The passes will also be available for pick-up throughout the festival. ID will be checked at the box office when the pass is claimed.
Pass Policy
Pass holders may enter and exit the theater at anytime during festival screenings. Pass must be presented to the theater staff at the lobby doors for entry to the theater or on the request of theater staff at any time. ID will be checked at the box office when the pass is claimed and may be requested by theater staff at anytime throughout the festival. Passes are non-transferable and non-refundable. Pass does not guarantee admission. There will be a $5 charge for replacement of a lost pass.