My Soul Remainer
U.S., 2017
Experimental violinist Laura Ortman performs her song, "My Soul Remainer," while Jock Soto, former principal dancer for the New York City Ballet, acts as the enthralled observer. Ortman deconstructs Mendelssohn's violin concerto in E minor—the recognizable strain transforms into Ortman's signature plucky loop-based chords, resulting in an ethereal composition that fills the vast on-screen landscapes. My Soul Remainer was included in the 2019 Whitney Biennial.
DCP, color, 6 min. Director: Nanobah Becker.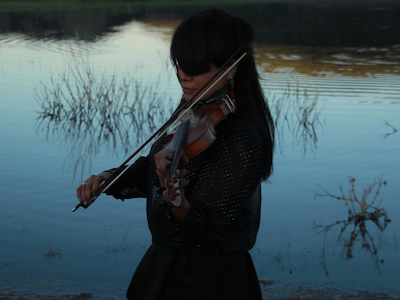 Wampum / ᎠᏕᎳ ᏗᎦᎫᏗ
U.S./Canada, 2019
An unapologetically hypnotic electro-pop melody is layered with Muscogee, Cherokee and English language, dance and dress in this documentation of Elisa Harkins' performance piece "Wampum / ᎠᏕᎳ ᏗᎦᎫᏗ," demonstrating how Indigenous culture succeeds in all its forms, past, present and future.
DCP, color, 6 min. Director: Elisa Harkins.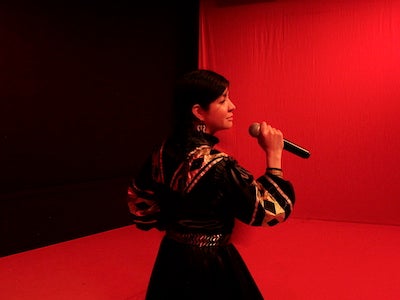 Love and Fury
U.S., 2020
Through intimate conversation and critical observation of Indigenous creatives such as Laura Ortman, Cannupa Hanska Luger, Black Belt Eagle Scout and Micah P. Hinson, director Sterlin Harjo brings audiences deep into the arts community of which he himself is a part. The nuanced portraits of each artist and their interactions with Harjo reveal an honest intimacy through the occasion of communal storytelling. Using humor as a vehicle through which to speak truth, colonialism is confronted head-on and with biting wit. Love and Fury is Harjo's latest film, released the year prior to the 2021 premiere of his breakout television show, Reservation Dogs.
DCP, color, 93 min. Director: Sterlin Harjo. With: Micah P. Hinson (Chickasaw Nation), Laura Ortman (White Mountain Apache), Cannupa Hanska Luger (Mandan, Hidatsa, Airkara, Lakota).