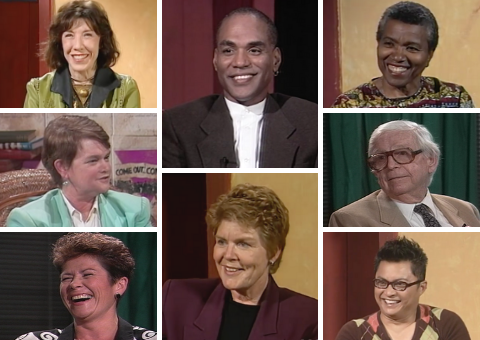 Watch Get Used to It on the Archive's YouTube Channel.
Read an interview with series host, co-producer, UCLA alumna and Los Angeles County Supervisor Sheila Kuehl on the Archive blog.

Produced by the City of West Hollywood and airing on cable stations throughout the country, the public affairs talk show Get Used to It (1992-2012) addressed national and local issues impacting the LGBTQ+ community. Hosted by Sheila James Kuehl, the first openly gay or lesbian person to be elected to the California Legislature, the series brought together advocates and allies for thoughtful conversations, delving into landmark cases and legislation for equal rights, issues related to LGBTQ+ youth, race and racism in the community, immigration, education, faith and spirituality, HIV/AIDS, and much more.
Interviewees included Black AIDS Institute founder Phill Wilson; activists David Mixner and Torie Osborne; actors Lily Tomlin, Judith Light and Alec Mapa; LGBTQ+ civil rights pioneer Morris Kight; Catch One disco owner and activist Jewel Thais-Williams; Project 10 founder Virginia Uribe; comedians Kate Clinton and Bruce Vilanch; writer Paul Monette; California politicians Carole Migden, Christine Kehoe, Jackie Goldberg and John Pérez; and historian Lillian Faderman.
Get Used to It represents a significant 20-year record of LGBTQ+ history. Thanks to a collaboration with the City of West Hollywood, the UCLA Film & Television Archive holds all 177 episodes and has made them available for free viewing online.

Pictured, clockwise, from top left: Lily Tomlin, Phill Wilson, Jewel Thais-Williams, Morris Kight, Alec Mapa, Torie Osborn, Kate Clinton, Sheila Kuehl.