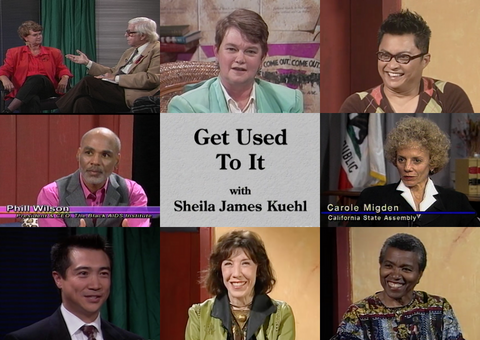 Clockwise, from top left: Sheila Kuehl with Morris Kight, Kuehl, Alec Mapa, Carole Migden, Jewel Thais-Williams, Lily Tomlin, J. Craig Fong, Phill Wilson.


Our guest writer is Cameron Jappe, a graduate of the Master of Library & Information Science degree program at UCLA, and former Cataloging Intern at the UCLA Film & Television Archive.

For the uninitiated, cataloging in library/archive terms is the process by which materials are described—using name, title, and subject terminology, and indexed within a searchable database where users can discover information resources, including moving image media. Well-developed organizing principles, such as establishing bibliographic and authority control during records creation, undergird the procedures involved in descriptive and subject cataloging. Unglamorous though it may be, cataloging is an essential institutional task, allowing libraries and archives to provide consistent, easy access to the rich materials in their stead.
While completing my Master of Library & Information Science at UCLA, I learned a great deal about this process when I interned in the Cataloging Department at the UCLA Film & Television Archive. I discovered that it's rare when a cataloger of audiovisual assets has the luxury to watch the moving image media in real time while creating records for those assets. The harsh reality is that if catalogers were to view every asset before describing them, very few artifacts in archives could ever be made accessible to patrons.
Instead, catalogers must rely on supporting documentation, reference books and online resources to create records that accurately classify the artifacts being described. This was how I was able to catalog several episodes of Get Used to It, a substantive public affairs talk show centered around topics of concern within and around the LGBTQ+ community. With the support of City Channel 10 of West Hollywood, Get Used to It first aired in November 1992, and ran for an impressive two decades, through what producer and host Sheila James Kuehl termed "incendiary years for the LGBTQ movement," beginning when the AIDS crisis was still at a flash point and ending before marriage equality was legalized in the United States. The show wrapped in January 2012, when Kuehl stepped away from hosting and, according to her website, the City of West Hollywood "refused to continue the show."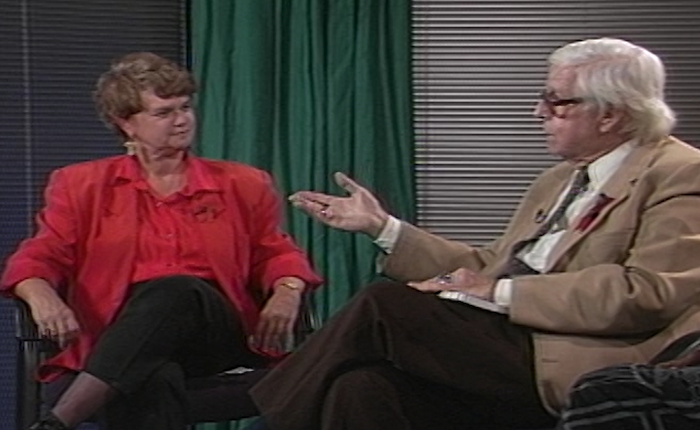 Host Sheila Kuehl and gay rights activist Morris Kight on Get Used to It.


During its successful run, each month an audience of thousands tuned in, via select cable stations across the country, to watch Kuehl interview expert panelists about LGBTQ+-focused issues. Hour-long episodes covered topics like teaching gay history in schools, adoption for aspiring gay and lesbian parents, recognizing and understanding transgender youth, and marriage equality, which incidentally wouldn't pass until 2015, three years after the show's end. Throughout its tenure, Get Used to It consulted a range of LGBTQ+ and allied historians, academics, writers, lawyers and civil rights activists to glean in-depth commentary on issues at hand. Special episodes titled "Voices of Our Lives" centered around one individual of consequence making significant contribution to LGBTQ+ lives. Occasional celebrity guests included actresses Lily Tomlin and Judith Light, and comedians Alec Mapa and Kate Clinton.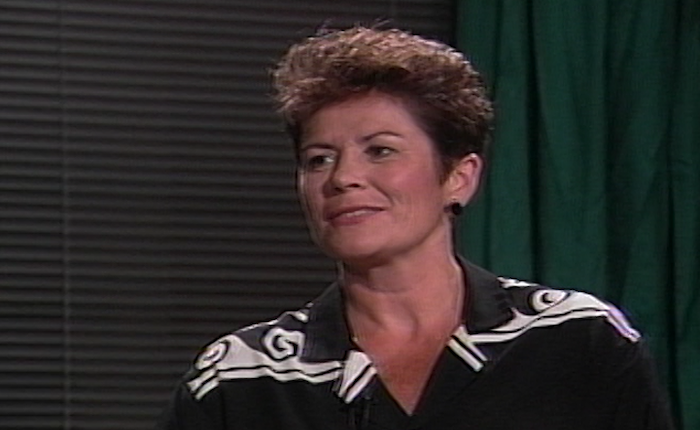 Comedian Kate Clinton on Get Used to It.


To catalog individual episodes, I relied on documents provided by the City of West Hollywood that accompanied the physical assets accessioned by the UCLA Film & Television Archive. While keying in descriptive information and assigning subject headings, I enjoyed being able to imagine and visualize, as one does when reading a novel, what the program was like. I envisioned the look of the show, how the expert panelists were arranged on set, what they looked like, even what they might be wearing. I thought about how each panelist might approach an episode's given topic. The Film & Television Archive acquired episodes of Get Used to It in a combination of videotape, optical (DVD) and digital formats, and I found myself picturing the soft resolution and saturated, muzzy color qualities of videotape—a staple of my childhood, versus the more defined visual qualities of DVD and digital. Each format provides a distinct experience for the viewer.
HIV/AIDS activist Phill Wilson on Get Used to It.


In preparation for this piece, I was able to watch a few episodes of Get Used to It and was delightfully surprised to discover how close the actual program is to what I had earlier imagined. When we think of public access cable shows like Get Used to It, it's easy to picture them having the kind of quirky, unintentionally funny guests and flimsy production values that Saturday Night Live relishes sending-up. But as I watched, impressed by the show's refinement and depth of focus on each topic, I remembered that Kuehl, a well-respected activist and politician, started her career in showbiz—notably as Zelda Gilroy, the "smartest girl in the room," on The Many Loves of Dobie Gillis (1959-1963). As host, Kuehl exhibits a keen intelligence equaling her TV alter ego, and that, coupled with irrepressible performance instincts, means that Get Used to It flourishes in Kuehl's assured, charismatic and compassionate hands as she confidently guides her guests through their discussions. While undoubtedly speaking to the experience of those, like myself, who are part of the LGBTQ+ community, Get Used to It also has a universal appeal and value, as evidenced in Kuehl's comment in one episode that a great number of the program's viewers were actually straight. Episodes covering domestic violence, civic engagement, and prisoner rape, for instance, make clear that these are not exclusively LGBTQ+ issues but ones that cross racial, gender and sexual orientation lines, speaking to, and for, many.
Get Used to It merits continued presence not only within contemporary LGBTQ+ culture—to remind us of where we've been and illuminate where we are—but the culture as a whole, to further demonstrate that we are not as divided as some would prefer to believe. It's heartening to know that the show's stewardship rests in the Film & Television Archive's expert hands. As they have already done with another essential LGBTQ+-themed non-fiction series, In the Life, the Archive has shepherded every available episode of Get Used to It online, making the show accessible for anyone with an internet connection.


Watch Get Used to It on the Archive's YouTube channel.


Sources quoted
"Kuehl Consulting - Sheila Kuehl." Get Used to It Television Series. Accessed November 5, 2020. http://www.sheilakuehl.org/kuehl-consulting.
Sheila Kuehl Emmy (Archive: 1979-2015); Jan 2015; 37, 1; EIMA3: Cinema, Film and Television (Part 2), Periodicals Index Online, Entertainment Industry Magazine Archive, pg. 66.