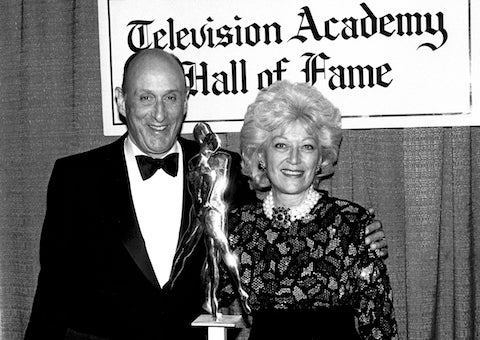 John H. Mitchell and Patricia W. Mitchell
As part of a larger gift to UCLA, in July of 2019, UCLA Film & Television Archive received a $10 million endowment dedicated to the programming and preservation of television. The gift was made possible by the late philanthropist Patricia W. Mitchell as a way to honor the legacy of her late husband, noted television industry leader, John H. Mitchell. The endowment will support annual Archive programming for television, such as workshops, lectures, screenings, symposia, as well as greatly needed television preservation opportunities. It will also fund the creation of a state-of-the art framework for the digitization of various television formats for future generations. The gift will also significantly enhance the Archive's ability to acquire, preserve and make publicly accessible the work of television's greatest creators, whose work might otherwise be lost, and whose impact would have therefore been forgotten. In honor of the endowment, the television collection will be renamed the John H. Mitchell Television Collection at UCLA Film & Television Archive.
Born and raised in New York, John H. Mitchell graduated from the University of Michigan in 1939 with a degree in economics. A pioneering television studio executive, he began his entertainment career in the formative years of the industry. He joined Screen Gems productions in 1952 as one of its original employees and eventually founded what would be Screen Gems' successor, Columbia Pictures Television, serving as its president from 1968 to 1977. More than 100 television series and 50 TV movies were produced during his tenure, including The Flintstones, Brian's Song, which won five Emmy Awards, and Father Knows Best, among others. In the 1980s, Mitchell served three terms as President of the Academy of Television Arts & Sciences. Patricia W. Mitchell's work and philanthropy included leadership through her involvement with a variety of organizations, including the Beverly Hills Family Y, the Academy of Television Arts & Sciences, the Trousdale Homeowners Association, the Young Musician's Foundation and the Center for the Partially Sighted.
Read the entire UCLA Newsroom press release
here
.